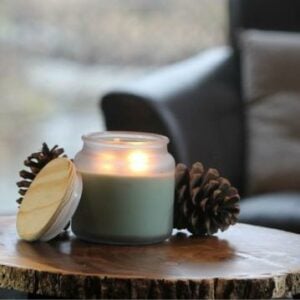 At American Soy Organics, we're proud to make products from candlemakers for candlemakers.
Today, we're highlighting the candlemaking journey of Jeff Schumacher from Pure Integrity Soy Candles.
Jeff and his wife Teresa started out by making candles in their basement. Fast forward about 20 years, and Pure Integrity ships approximately 10,000 items per month to customers across the US!
My Start
My wife Teresa is a candle lover, and back in the day she was burning candles all the time. We started to notice the black soot on the walls and containers, and we realized that we were breathing that in, too. My background is in sports nutrition, and we are both very health conscious. So we started researching and realized that the wax itself is paraffin, made from petroleum. My wife, who is very creative, knew there had to be healthier alternatives. She started looking into natural wax options and stumbled on soy wax. This was in 1999 or early 2000, and soy wax wasn't even really on the market yet. But she tracked down a 50-pound box of wax slabs, and just started making candles.
We didn't start out thinking that we would make it into a business. But we did a kiosk in the center of a mall in early 2002 and it just took off! That's when I decided to make it my full-time job as well.
My Candles
At the beginning, our candles were not great! It definitely took more than 50 pounds of wax to figure it out. But over the course of time, we not only figured out how to make the candles we want, but we also started working with a fragrance company to develop the perfect fragrances that smell great and are phthalate-free. Our special process means that the hot throw lasts from top to bottom. It's more work, but it's worth it! A good cold throw is one thing, but you won't get people back unless the candle throws great when it's burning.
One good thing about the candle industry is that it's an affordable luxury. People may cut back on spending in some ways, but people will often still make room in their budget for candles. My hope is that when people open their box with our candle inside, it brings joy to their lives and a smile to their face.
A Company Built on Faith and Flexibility
Throughout our company's history, we've prioritized our family and our faith. That's one of the benefits of being in business for yourself. With the flexibility of owning our own business, we were able to hold onto those priorities. My wife has homeschooled all of our kids, while working as a web designer and developer for Pure Integrity. Our daily schedule changes a lot due to our kids' activities, and we can accommodate that. We extend that flexibility to our staff too; we have working moms, grandparents, people who prioritize their families and we support that because we have those same priorities.
When we first started, I was working as a sales manager at a Fortune 500 company. It was a big leap of faith to build this company, and I believe we're exactly where we're supposed to be.
My Day to Day
Our business has multiple aspects: We're a manufacturer, a wholesaler, a brick-and-mortar retailer, and an online retailer. On a day-to-day basis, I am really overseeing all the production and order fulfillment for all of our sales. Plus, I take a lot of phone calls and answer a lot of emails myself. While I'm doing that, we have great staff members that take care of the production of our products. We have really, really good people that know what they're doing, and that gives me a lot of flexibility to focus on customer service and growing the business.
Advice for Candlemakers
From a candlemaking standpoint, it all comes down to testing, testing, testing! Making great candles means being kind of a perfectionist.
From a business standpoint, my advice is to never give up on your vision. Push through adversity because adversity will come. I left my corporate job to follow this vision, and have stuck with it through startup challenges, recessions, and more. Surrounding yourself with supportive family and friends is important too.