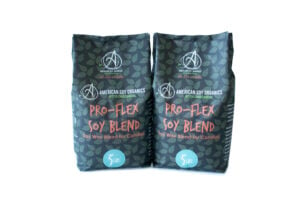 At American Soy Organics, we are all in on better candlemaking and listening to our customers. We heard you! You love the clean burn and sustainable quality from 100% soy wax. But we also know you want an easy way to make great candles every time.
Soy wax can take extra time and effort to get your candles looking and burning just the way you want. So our team looked for a way to enhance the natural qualities of soy wax. By adding a touch of synthetic emulsifiers, we discovered a blend that melts easier and delivers consistent results.
That's why we're introducing Pro-Flex. Pro-Flex wax is for the candlemaker at any level of experience looking for a natural formulation with added stability.
Seasoned candlemakers making large quantities will appreciate this wax, as will those who are just starting out at their kitchen tables. Pro-Flex means better candlemaking every time.
Advantages of Pro-Flex:
Predictable candle production
Just heat, pour and go!
Smooth tops every time
Optimal fragrance throw with less fragrance oil needed
Holds color well
Want to stick with a traditional all natural soy wax? Check out our Freedom Wax line, including wax formulated for pillars and melts.
Visit our Resource Center for tips on better candlemaking.